mason pony playtime
Sibling session 2019
Rady children hospital visit Tori 18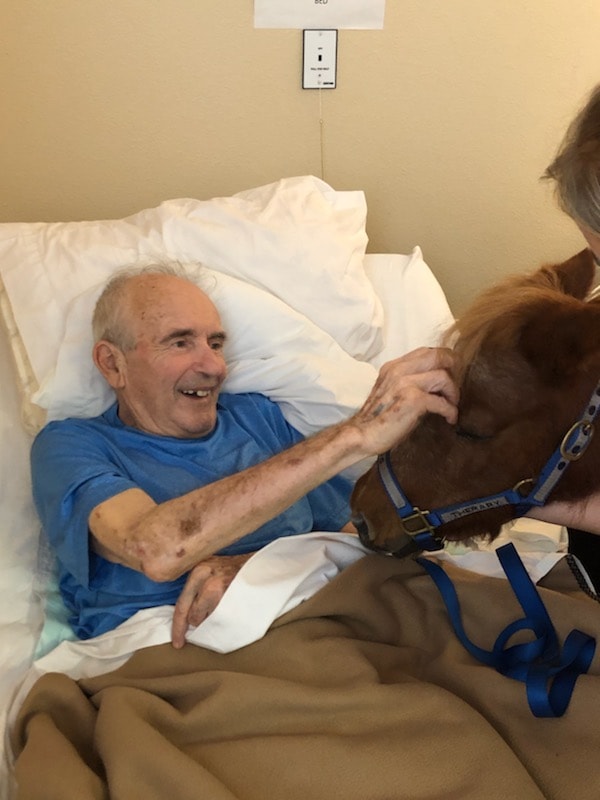 Chips at parkview 2019
School visit 19
Descanso elementary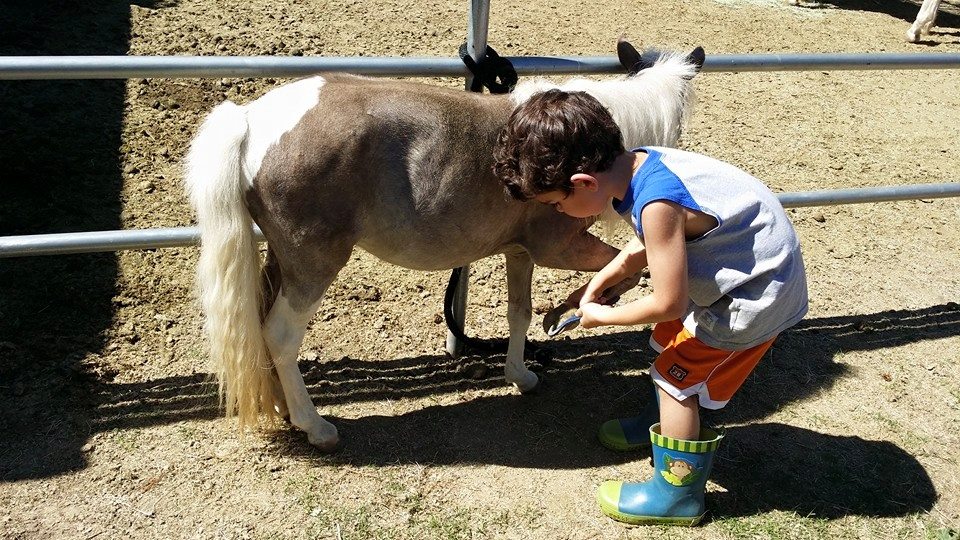 corben pony playtime
Atpf & NCL Art Camp 2015
Ezra pony playtime
Ronald mc donald house 2015
Layne 2yr pony playtime
Escondido post acute care
Nacho and Jayden2015
Casa de Amparo
Heart and Hooves Therapy is a
501(c)3 non-profit public charity.
We are

here to enhance the lives of children and adults, any age and ability with a different kind of therapy! We use AAA (animal assisted activitves) and AAT (animal assisted therapy) to

offer on-site sessions and off-site visits with our mini horses and other animals. We serve any and all, regardless of where they are located or what they are going through.
"Chips"
I am a 19 year old mini horse that came in March of 2014.
I have love being a therapy hore on all different levels. I am a registered Pet Partners therapy team, AMTHA and with HHT. I really enjoy being walked and groomed by children.
I love carrots and apple!
"Millie"
I am a mini donkey that came in Feb 2018! I am 4 years old.
I am a registered
therapy donkey with Pet Partners, AMTHA and HHT.
I help with
on-site sessions and will be doing therpetic driving too.
I love people!
"Nacho"
I am a 14 year old Paint Horse that has been in the family since 2006.
I have been trained to be a trail horse and all around family horse. I enjoy teaching children and adults horsemanship!
I love apples and watermelon rinds!
"Tori" AKA Peanut
I am a 6 year old mini horse that came in October 2014!
I have been imprinted from birth and am a registered Pet Partners therapy team, AMTHA and HHT! I enjoy working with any and all.
I like apples or carrots!
"Violet"
is just 5 months old mini horse who was born on Feb 14th 2020.
She is in training to become a registered therapy horse.
She loves cookies,scratches and carrots.
"Cherry"
I am a 3 year old mini nigerian dwarf goat that will become a registered theary goat soon.
​
I love being around children and teach them how to walk me.
" Nancy Tabachki"
Nan's little angel's
Volunteer
I have loved animals and in particular horses my whole life. I've owned my own horses for the past 35 years. I've trained, shown and had lots of fun with them. I am passionate about my animals and helping others. I now have 5 mini horses all in training to become therapy horses. I am registered with Pet Partners with two of them. I am so excited to be part of Heart and Hooves and to share my horses with others. I am a proud Mother, wife and Grand Mother of 2 wonderful girls. Click picture to contact.
"AJ"
I am a 2 yr old mini horse who was born on the ranch Aug 10th 2017!
​
I love people, being groomed and am a registered therapy horse with Pet Partners, AMTHA and HHT. I love being pet and hugged!
"Melissa Sargent"
Founder/CEO
I have 21 years of being involved with horses on all levels from scooping poop to showing to training to care. I was in 4-H and FFA too. I have a Veterinary Assistant Certification. Studied animal behavior and I am a Pet Partner's animal therapy handler and with AMTHA (american

miniature

therapy horse

association

). I also was a foster child that was adopted and raised by a foster parent and have learned many things from all the children we served in our home!
"Kulten,Kylee and Kinlee Sargent"
We are the best pooper scoopers around and we love to be our mom's assistants with training the horses! We have learned so much from our mom and experiences with horses! We are happy we get to help share with everyone what a difference mini horses and others can make.
"Piper"
I am a 4.5 month old mini pig in training to be a therapy pig.
I love people,mud and watermelon.